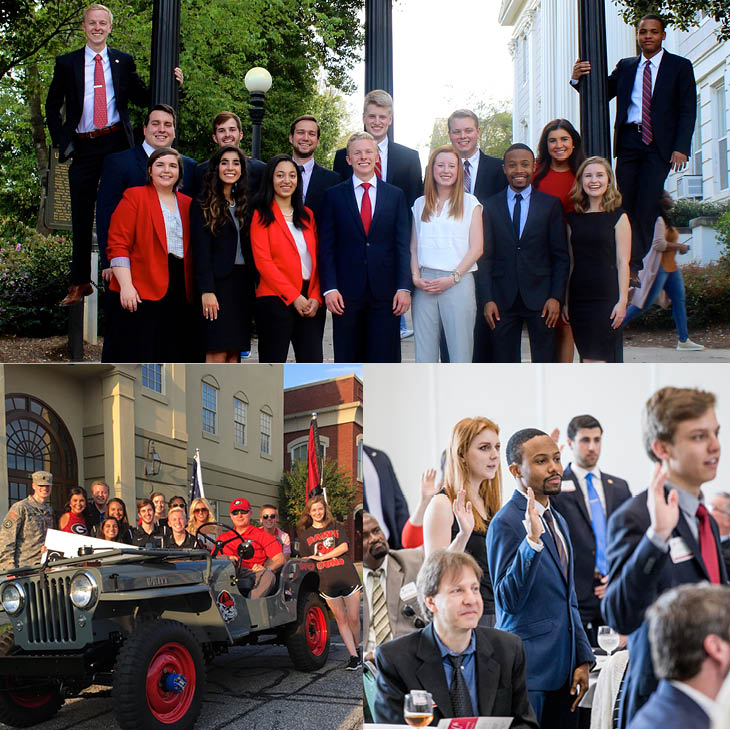 About University Judiciary
Established in 1968, the University Judiciary (UJ) is the student-run organization charged with promoting a climate of integrity at the University of Georgia by conducting formal hearings for students alleged to have violated conduct regulations.  By participating in University Judiciary, students will gain valuable critical thinking skills, ethical decision-making skills, and demonstrate leadership on campus by promoting social responsibility.
Additionally, the group seeks to proactively educate the University community to help students understand the expectations that the University has for appropriate and responsible behavior. In this manner, the University Judiciary assists in fulfilling the overall objectives of the Office of Student Conduct.   The mission statement of the University Judiciary reflects this role:
We, the University of Georgia Judiciary, seek to foster respect within the University Community through adherence to the Code of Conduct, by utilizing proactive education and a fundamentally fair conduct process.
University Judiciary and the Formal Hearing Process
Members of the University Judiciary serve as Justices or as Advisors/Advocates.
Justices sit on formal hearing panels and determine whether or not a student is in violation of the Code of Conduct based on the presentation of evidence and witnesses. If the student is found in violation of the Code of Conduct, the hearing panel determines and assigns sanctions appropriate for the violation.
Advisors assist the student or organization alleged to have violated the Code of Conduct in preparing and presenting evidence and witnesses.  The Advisor supports the student in their preparation of their case prior to the hearing, educates the student on the formal hearing process, and consults with the student during the hearing. The Advisor is a resource for the student or student organization during the formal hearing process. 
Advocates represent the university community's interests in a hearing.  The Advocate presents information to demonstrate why it is believed that the student violated the Code of Conduct based on the preponderance of the evidence.  The Advocate contacts potential witnesses, presents documentary evidence, and questions witnesses during the formal hearing.
University Judiciary and Parking Appeals
Members of the University Judiciary review parking citation appeals on behalf of Parking Services. All appeals must be formally accepted within ten (10) calendar days of the citation issue date. Parking appeals do not involve a hearing, therefore, any evidence or documentation must be submitted with the appeal. Notification of appeal decisions are sent via mail or email, and may also be viewed via your Parking Services Account. Note: immobilizations and towing fines will not be considered for appeal.
To file an appeal electronically, log in to your Parking Services Account using your MyID and password. Select the "Citations" link and then the "Appeal Citations" link. Complete the form, paying particular attention to the directions provided.
Executive Council Directory
View the current University Judiciary Executive Council members.
Something Bigger Than Myself
I stumbled upon UJ at my summer orientation fair my freshman year. I knew I wanted to be part of something bigger than myself, and I knew that I wanted to join an organization that would provide support to the university community and also help my professional development.

— Daniel Bettis, University Judiciary member