STUDENT RIGHTS & RESPONSIBILITIES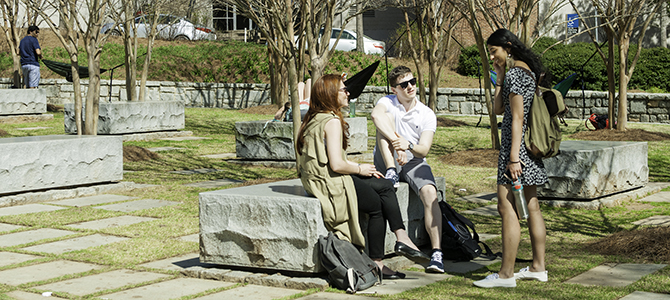 A statement of Student Rights and Responsibilities, including The Pillars of the Arch, stands as the philosophical foundation for the Code of Conduct at the University of Georgia. This statement recognizes that students have both rights and responsibilities that are protected as members of the university community and as citizens.
Student Rights and Responsibilities
Students are not only members of the academic community but are also members of the larger society.  Students, therefore, retain the rights, guarantees and protections afforded to and the responsibilities held by all citizens.  A student is not immune to prosecution by local, state, or federal law enforcement agencies irrespective of whether the University initiates judicial proceedings in a given situation.  As members of the University community, students have a responsibility to know and follow the University conduct regulations.  Violations of these regulations will result in action by the Office of Student Conduct.
As would be expected, standards for University of Georgia students are higher than those of communities not engaged solely in scholarly pursuits.  Not every situation a student may encounter can be anticipated in a written document.  Therefore, students are expected to act in a manner that demonstrates integrity and respect for others and the campus environment. In order to provide direction for that expectation, the University of Georgia has adopted The Pillars of the Arch as a means of articulating three guiding principles or values.  By adhering to these principles, students can enjoy their own rights while also respecting others' rights.  By doing so, students assist in furthering the University's aspirations to uphold The Pillars of the Arch:
Wisdom, Justice and Moderation
Wisdom challenges us to apply lessons received inside and outside the classroom to our everyday lives.  Wisdom transcends knowledge, embracing curiosity, discovery, and expression throughout our community.
Justice leads us to be fair in our dealings, accountable for our actions, responsible for ourselves, and empathetic for others.  Justice requires honesty and celebrates diversity, establishing credibility and integrity for our community and ourselves.
Moderation compels us to act with civility, bolstering our faith in others and the faith others have in us.  Moderation accentuates our self-respect, promotes responsible citizenship, and enhances pride in our university.
Without each of these pillars, the Arch would lose its strength and balance.  Likewise, all three qualities are necessary for us to be strong and complete citizens.