University Judiciary Events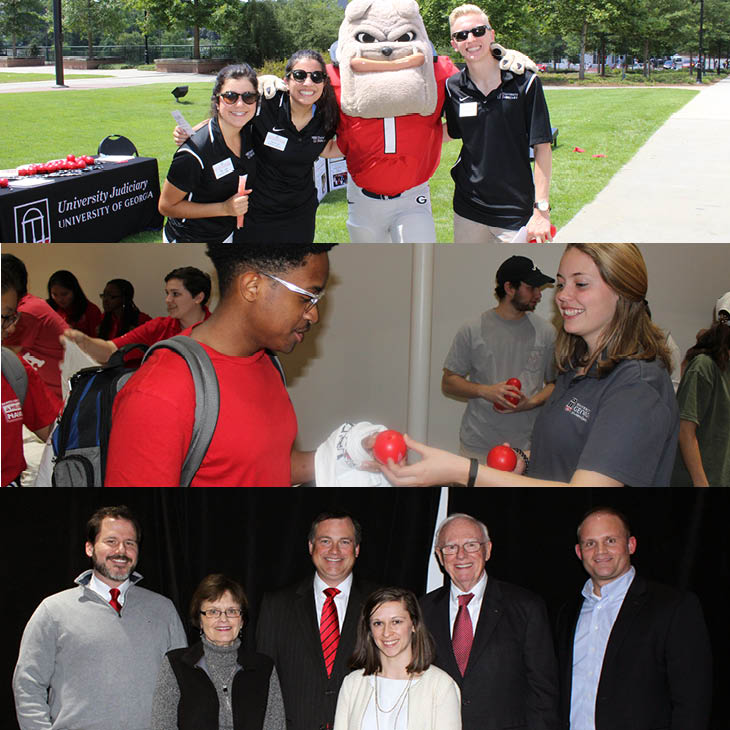 University Judiciary hosts educational programs, as well as several large scale events that serve to educate our members, connect our organization to the University campus and Athens community, and recognize deserving members and alumni who serve the organization.
Jenny Penney Oliver University Judiciary Recognition and Induction Ceremony
University Judiciary celebrated their 50th anniversary during the 2018 Jenny Penney Oliver University Judiciary Recognition and Induction Ceremony  on Saturday, April 15, 2018 at the The Classic Center in Athens, GA. We had alumni come from across the globe to celebrate and honor the history of University Judiciary's impact on the university community. In addition, we inducted 26 new members into the organization, recognized outstanding members for their contributions to the organization and to UGA, and honored our graduating members. Speakers for the event included Mr. William R. Bracewell, Vice President for Student Affairs Mr. Victor K. Wilson, and our keynote speaker the Honorable Judge William M. Ray II. You can read more about the 50th Anniversary Celebration here.
University Judiciary Public Affairs Events
University Judiciary partnered with the Office of Institutional Diversity, Equal Opportunity Office, Multicultural Services and Programs, Disability Resource Center, International Student Life, Student Veteran's Resource Center, and Recreational Sports for this event.  This event was a proactive approach to inform students of the foundations to continue to build a culture of inclusive excellence here at UGA.  Additionally, the Showcase included life-sized maps of the state of Georgia, the U.S., and the world for students, faculty, and staff to pin where they are from in order to show UGA's geographic diversity.
UJ and the Fontaine Center collaborated to hold the third annual DUI Awareness. The event was aimed towards educating students on the dangers of driving under the influence of Alcohol and/or other Drugs. This year's event took the form of a Pizza – Trivia night where teams answered questions about alcohol and other drug awareness in order to win prizes. 
101 Things to Do in Athens Without the Use of Drugs or Alcohol
UJ partnered with the Residence Hall Association and Improv Athens to provide an interactive performance to students about various activities, events, and programs on campus and within Athens that students can participate in that do not require the use of alcohol and other drugs.
This year, we successfully hosted the fifth annual overnight University Judiciary Retreat at Camp Twin Lakes in Winder, Georgia. This retreat allowed our current and provisional members an opportunity to interact with each other.  It also provided an opportunity to build trust and develop community within the organization. Keith Wenrich, Director of Recreational Sports, gave the keynote address. Additionaly, UGA Rec Sports staff members led various team-building activities, which taught members the importance of respect and communication. Also, all members participated in developing organizational goals for the upcoming year.  We believe this experience breaks down personal barriers allowing all members to respect each other and their opinions for the upcoming year.
University Judiciary members pride themselves on giving back to the community through various community service projects throughout the school year. As an organization, University Judiciary has worked at the Athens-Clarke County Animal Shelter, at Fowler Drive Elementary School in partnership with Keep Athens Beautiful, and at Campus Kitchen to help prepare hot meals for those in need in the Athens community.
Follow University Judiciary on Facebook or Instagram to find out about upcoming events!